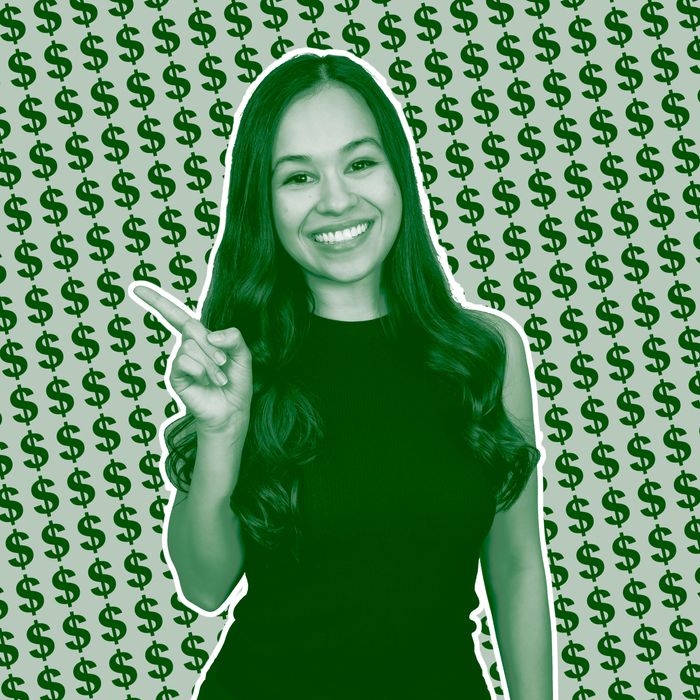 Photo-Illustration: by The Cut; Photo: Courtesy of Erika Kullberg
To her 20 million followers, Erika Kullberg, 32, is a cheerful source of personal finance how-tos and hacks (don't throw out those old Nikes — you could use them to get new ones for free!). But before she amassed her audience, she was a corporate lawyer with $225,000 in student debt. She paid it off in two years and then got obsessed with helping other people gain control of their money. 
A big part of what sets Kullberg apart in the money-influencer field is, of course, her law degree. One of her taglines — "I read the fine print so you don't have to" — is based on her ability to decipher legalese in contracts, warranties, and other documents that most people ignore. But she also attributes her success to plain old doggedness. She walked 30 minutes to her fancy law job every day for years just to save $2 in bus fare. Extreme? Sure, she's the first to admit it. But she believes that it kept her in the zone of pursuing her goal of getting out of debt. "Having that mind-set and mentality and discipline helped me to stay committed and not make bigger splurges," she says.
For all her hard work, Kullberg is also a big fan of passive income — money you make with minimal labor on your part by investing your time or cash up front. Here, she talks about how passive income can be more accessible than most people realize, what reading the fine print actually entails, and what she spends her money on now that she's actually wealthy.
When did you realize that reading the fine print could really pay off?
I got into reading fine print in law school. I was learning all of these new legal skills, and I wanted to apply them to practical life. The first time it really affected me was when I was on a United flight for a job interview and my bag was delayed a number of hours. I knew from reading the fine print that if your bag is delayed, you're entitled to compensation up to $3,800. It's a Department of Transportation rule. Because I had an interview the next day and I didn't have my suitcase, I went to Nordstrom and bought a nice outfit — a shirt, pants, shoes, and toiletries. I saved the receipts, submitted them to United, and they reimbursed me the full amount, which was over $500. As a broke law student, I had never spent $500 at the mall in my life, so that was very meaningful. I still have the shirt I bought, actually. And it was the first time I realized that reading the fine print could make a big difference.
What other fine-print tips do people tend to overlook?
A big one is warranties. For example, Nike shoes and apparel come with a two-year warranty. That means that if your Nike shoe has a tear, and it's less than two years from the manufacturing date — which you'll find right inside the shoe — they'll give you a free replacement or a gift card for the same value. I've done it myself. You can either send the shoe in or you can go to the store where you purchased it. They'll assess if the damage is wear and tear, which isn't covered, or if it's a manufacturing defect, which is covered.
Whenever things break down or aren't working, check the warranty first. After that, check what kind of credit card protections are available, because a lot of credit cards will extend a warranty. For example, let's say that your fridge has a two-year warranty, but if you bought the fridge with a certain credit card, they'll extend the warranty by a year. So after two years, the fridge company won't do anything for you, but your credit-card company will step in and cover the cost to replace it if it breaks.
Another example is AirPod Pros. A lot of people who had them were experiencing static-y noises, or the noise cancellation wasn't working. They…


Read More: How To Save Money By Reading the Fine Print